Mike has been in the construction industry for over 40 years, training as a Landscape Architect in the 1980s and moving into construction recruitment in 1988. In 2008 he set up JohnsonBIM, specialising in BIM that has become central to the Architecture, Engineering & Construction Operations (AECO) industry.
He has worked with Techifide's founder, Ivan, for three years, initially introducing him to members of JohnsonBIM's established network, who seized the opportunity to trial his groundbreaking procurement software: BIM Direct.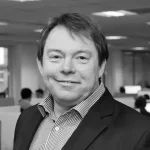 They don't just understand what you want and deliver it, they come up with solutions, without the scope-creep

Mike Johnson – DBE.careers
Mike's first experience of a Techifide project came in 2018 when he wanted to improve security on the JohnsonBIM website. Techifide could have simply secured the website as required and left it there. However, they noticed the untapped potential and encouraged Mike to develop his innovative ideas to create a smarter site.
Whilst delivering a secure platform solution, Techifide implemented some bespoke code to introduce intelligent filtering to the job postings, improving the experience for BIM job seekers and making JohnsonBIM the first point of call for BIM careers.
Ivan has a remarkable understanding of the industry and the gaps within it. He knows how to put the right people in place and has the man-management skills to get the best out of them – a rarity in a sometime toxic software industry

My business is about people. Amongst all those I know, Ivan is exceptionally client focussed, professional and very motivating.

Mike Johnson – DBE.careers
Inspired and supported by the Techifide partnership, Mike began to realise his strategic vision for the next generation of Johnson careers, acknowledging that the traditional model for recruiters is changing and that his specialist knowledge and tools could be shared more effectively with digital innovation. In 2019, DBE Careers was born: an online resource for BIM career intelligence.
Co-developing the project from a fledgeling idea to a fully-functioning platform in just one month provided a rapid test case for Mike's theory: an online resource focussed on BIM careers that would be useful to anyone wanting to make the most of their potential; a library of relevant advice, articles, posts, resources and opportunities. In turn, providing much more effective targeting for recruiters than generic job board advertising.

We're a niche service in a niche market and there's no other space with more concentrated knowledge and resource for career-centric BIM professionals.

Mike Johnson – DBE.careers